Jokes about Accountants Being Cheap
Bank Robbery
Two accountants are in a bank, when armed robbers burst in. While several of the robbers take the money from the tellers, others line the customers, including the accountants, up against a wall, and proceed to take their wallets, watches, etc. While this is going on accountant number one jams something in accountant number two's hand. Without looking down, accountant number two whispers, "What is this?" to which accountant number one replies, "it's that $50 I owe you."
Lemon Squeezer
The local bar was so sure that its bartender was the strongest man around that they offered a standing $1000 bet. The bartender would squeeze a lemon until all the juice ran into a glass, and hand the lemon to a patron. Anyone who could squeeze one more drop of juice out would win the money. Many people had tried over time (weight-lifters, longshoremen, etc.) but nobody could do it.
One day this scrawny little man came into the bar, wearing thick glasses and a polyester suit, and said in a tiny squeaky voice " I'd like to try the bet" After the laughter had died down, the bartender said OK, grabbed a lemon, and squeezed away. Then he handed the wrinkled remains of the rind to the little man.
But the crowd's laughter turned to total silence as the man clenched his fist around the lemon and six drops fell into the glass. As the crowd cheered, the bartender paid the $1000, and asked the little man "what do you do for a living? Are you a lumberjack, a weight-lifter, or what?" The man replied "I work for the IRS."
Accounting made easy, for FREE!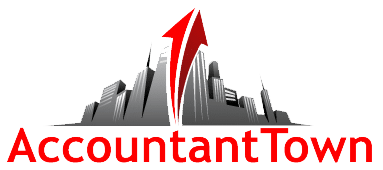 Access the contact form and send us your feedback, questions, etc. We are always welcome to help someone out. You can also contact us if you wish to submit your writing, cartoons, jokes, etc. and we will consider posting them to share with the world! The Facebook and LinkedIn groups are also good areas to find people interested in accounting like yourself, don't hesitate to join as everyone of all levels are welcome to become part of the community.
Are You Ready to Take Your Accounting Skills to the Next Level on the Information Highway?